SURF LESSONS – GROUP OR PRIVATE
Discover Portugal and learn
surfing with us
SURF LESSONS – GROUP OR PRIVATE
Discover Portugal and learn
surfing with us
Come learn to surf with us!

Waves4Life has experienced instructors certified by IPDJ (Portuguese Institute of Sport and Youth) and FPS (Portuguese Surfing Federation).
We teach surf in a fun way but always with high safety for all our students.
Our beach is distinguished from the rest of Costa da Caparica because it is a beach with few people in and out of the water. These conditions make Waves4Life have the best environment to learn to surf, away from the crowds of the pontoons of Costa da Caparica. In addition to being safer, you will get more attention from the instructor.
Adding this to the fact that we are very close to Lisbon, makes our school an excellent choice for learning to surf.
Come visit our school and bring your friends! Shall we catch a wave?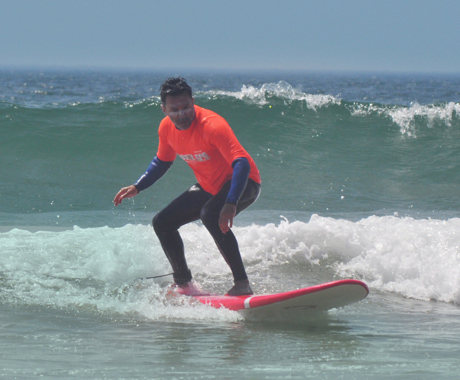 60€ – 1 HOUR 
PRICE PER PERSON
Undoubtedly the fastest way to learn to surf.
A private class means 1 instructor for 1 student, so all our attention is focused on you only.
RATIO: 1 Student for 1 Teacher (1: 1).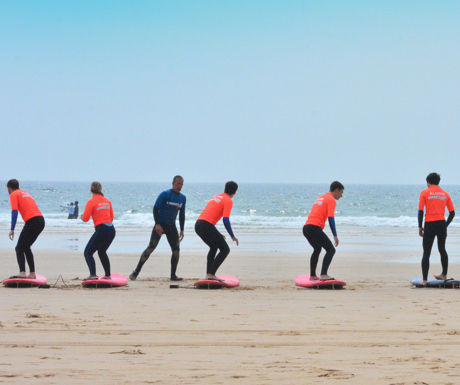 30€ – 1 HOUR  
PRICE PER PERSON
Group surfing is always more fun, so there's nothing like bringing friends and learning together.
Minimum of 3 students per class
RATIO: 5 Students (maximum) for 1 Teacher (5:1).
Surfing in Costa da Caparica,

is in Praia da Bela Vista

For guided, fast and safe learning, at Waves4Life, we will structure the training according to the level and the progress of his students.
We teach in a relaxed and fun way, but always with a focus on learning and safety (maximum of 5 students for a teacher).
At our school, softboards (foam boards) are used for greater safety for all users.

What you will learn:
-Know the material / equipment of Surf (board, wetsuit, wax and leash)
– Security rules
– Read and assess sea conditions (ripcurl, surf zones)
– Basic techniques (adaptation to the aquatic environment, paddle, sitting on the board, passing through the wave breaks and Take-off (standing on the board).
Recipients:
Students from 8 years old, with no or little experience with surfing.

Have you already taken classes and want to progress quickly and safely?
At our Surf school, Waves4Life, you will feel accompanied in this whole adventure that is Surf.
What you will learn:
– Improve the basic posture of surfing
– Improve reading and positioning within the sea
– Improve or perfect maneuvers such as top turn, bottom turn and cut back.
Recipients:
Students who already know how to cut the waves in the foam in both directions and who want to start on the wave wall and maneuvers.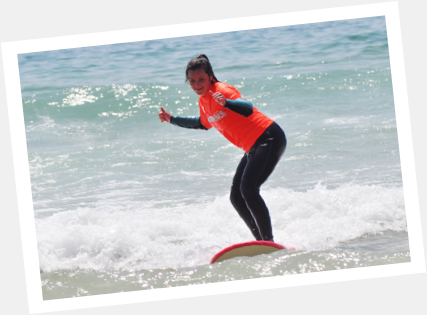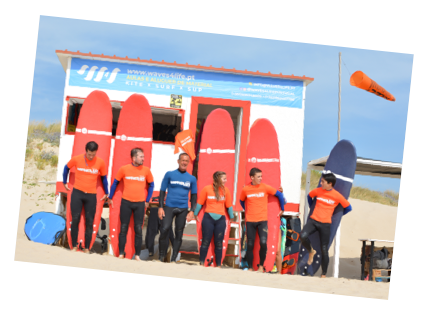 Ratio:
Maximum of 5 students per one instructor.
All classes have insurance and material included (board, leash and wetsuit)
Duration:
Classes last for 1 hour in water, but can take approximately 1: 30h due to the previous warm-up and explanations on the beach.
Classes must be booked and confirmed by 7pm the previous day.

2020 All Rights Reserved
RNAAT – 222/2015