OUR SCHOOL
We want to bring watersports to everyone
OUR SCHOOL
We want to bring watersports to everyone
OUR SCHOOL SPECIALIZES IN KITESURF

AND SURF

Waves4Life is located in Praia da Bela Vista and has a team of instructors passionate about water sports.
At Waves4Life, we want to help you achieve your goals by managing all your expectations and concerns individually and safely, so that you can make the most of it in a safe and fun environment.
We present several classes models, and we are always alert so that you can learn at your own pace, ensuring that you have a progressive, fun and safe learning class at all times.
We have new kiteboard material from the Ozone brand, ready to be used, either in classes or for rent. We also have has partner brand Mystic, which will help you maintain safety through its harnesses, helmets and life jackets.
Whether you are just trying something new, or you want to become a professional athlete, the Waves4Life school is the ideal school for you, as we will be with you every step of your learning process helping you achieve your goals in the best possible way, that is, quickly, safely and fun!
Come learn with us and become an independent and confident kitesurfing rider, join us and our kitesurfing community!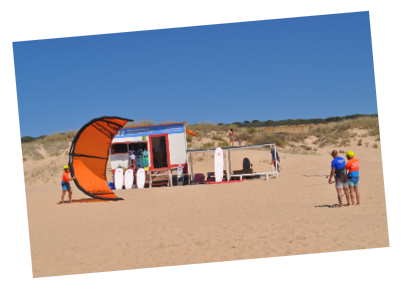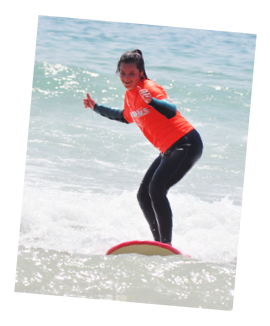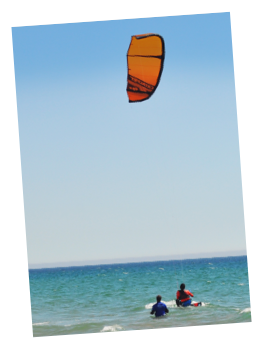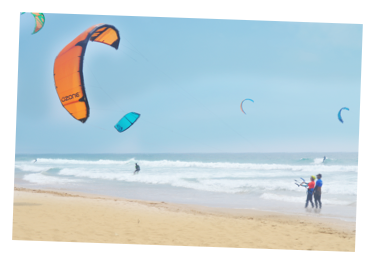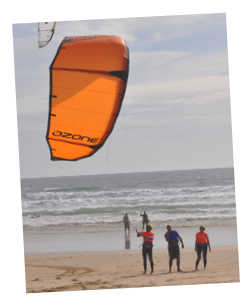 Portugal is a beautiful destination, and cheap compared to other European countries, and Lisbon is an expanding capital, so the fact that we have cheap flights inside and outside the country makes us an unmissable spot. In addition, Portugal is also known for its hospitality, history and gastronomy, so you will have a fantastic and complete holiday. We are confident that you will like our facilities for kitesurfing, this combined with good food and good accommodation will make you not want to leave Lisbon!
We are just 20 minutes from the center of Lisbon, on one of the most emblematic beaches of Costa da Caparica, Praia da Bela Vista.
Our beach has parking and a restaurant with bar service "A Casa da Praia", where you can relax after your classes. In our school you also have shade and a changing room to put on your neoprene wetsuit.
Our beach is very large, which means that we have plenty of space for classes, free from crowds.
Our sea is calm, without too big waves, all classes are studied to the maximum so that you are always safe, for this we analyze the conditions of the wind and the sea, so that you can make the most of them.
In summer, we usually have a constant and reliable wind because we benefit from a thermal wind, which makes us one of the best schools for taking kitesurf lessons in the summer in Portugal.

Praia da Bela Vista,
2825-491 Costa da Caparica
What is the best way to reach us?
We are just 20 minutes from the center of Lisbon, so you can always come by car or public transport.

Just take a shuttle to the center of Costa da Caparica, and then take a bus to the beach, or take a small train that travels all the beaches of Costa da Caparica (TRANSVIA), and get off at Estação 17, Praia da Bela Vista, next to the restaurant "Casa da Praia".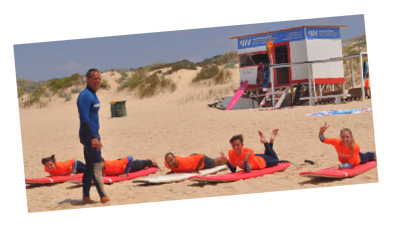 For us, Kitesurf is not just a sport, but a way of living.
Come and feel the same passion as us and maybe you will end up discovering yours!
COME LEARN WITH US

2020 All Rights Reserved
RNAAT – 222/2015