KITESURF LESSONS FOR BEGINNERS
The best way to start is with Waves4Life
KITESURF LESSONS FOR BEGINNERS
The best way to start is with Waves4Life
Learn Kitesurf with us and you will quickly become a pro!

Our classes are given taking into account what you are and aim to achieve.
You will start classes with a small 2m traction kite, so that you understand the theory behind the wind window and handling the kite, after this first approach we will start with the inflatable kites!
Through your physical structure and atmospheric conditions we will give you the most suitable material to get you started in this fantastic sport that is kitesurfing.
Starting with small kites and short lines, to ensure greater security, up to larger kites and 23m lines so that you can become an independent rider in the kitesurf modality.
Your progress and safety are our biggest concern, So we will always be there to accompany you to evolve in this sport, with lots of fun in between.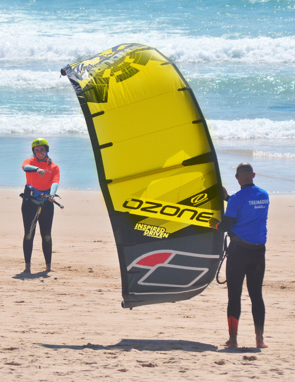 75€ – 1 hour 
650€ – 10 hours
price per person
Private kitesurf lessons are without a doubt the fastest way to learn kitesurf.
A private class means 1 instructor for 1 student, so all our attention is focused on you only.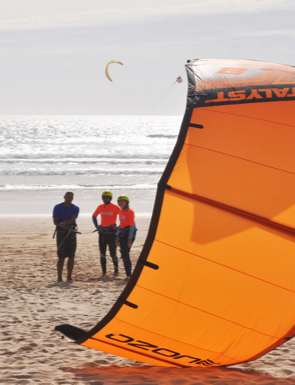 45€ – 1 hour 
350€ – 10 hours
price per person
Because in a group it's more fun and less tiring…
The kitesurf group lessons are composed of a maximum of 1 instructor for 4 students
Here, you will also learn by watching your colleagues.
KITESURF LESSONS
EXPERIENCE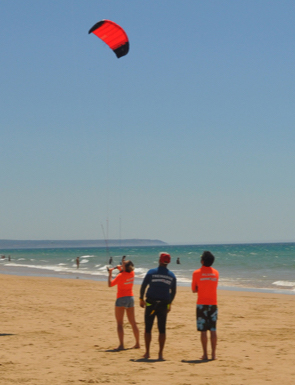 60€ – private lesson – 1 hour 

50€* – group lesson – 1:30 hours 
*Price per person
Don't you know if kitesurfing is for you? Or do you only have a few hours on the beach and want to try a fun and exciting sport?
The kitesurf experience is the best solution for you, but beware this baptism/experience promises to be addictive …
Information about our classes

– The material is all included in the classes (Kite, Bar, Harness, leash, Vest, Helmet, Neoprene Suit).
– When you buy the 10 hour pack, you are assigned a card with them, divided by 30 minutes at a time, so you can be aware of the number of hours you have already had.
– The duration of group classes may vary depending on the weather conditions. Usually between 1:30 and 3 hours maximum.
– Although the kitesurf material is included, we advise you to bring other elements, such as a bathing suit or swimming shorts (mandatory), towel, water, sunscreen and sunglasses.
– All students will be entitled to an individual locker to place their material goods during the period in which they are taking classes.
– The hours to start the class and its duration is defined by us. We try to book at least 2 days in advance, so that we can have the best wind forecast update.
– We all depend on wind and sea conditions, so we have to have a level of flexibility and patience.
– Students must always arrive 15 minutes before class starts, so they can get equipped and start on time.
– In case of absence by the student, without 24 hour notice, 1 hour will be deducted from the student's class card.
– All classes are valid for one year from the date of purchase.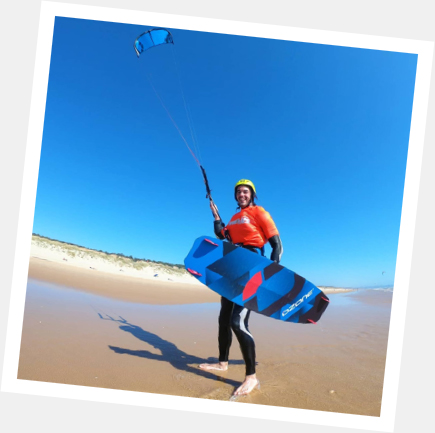 TEACHING KITESURF TO CHILDRENS

In order to teach kitesurf safely, we have specialized material for children. (harnesses, helmets, life jackets, kites with small sizes and bars with short lines).
Only with adequate material and a lot of attention from our experienced coaches, it may be possible to teach young children in a safe and fun way.
In order to start classes, we will also have to respect a minimum of height (1.40 m), weight (45 kg) and age (8 years), however, it does not dispense a small evaluation to understand if the child is mentally open and alert to learn this sport, because if it doesn't, it could become dangerous.

2020 All Rights Reserved
RNAAT – 222/2015